BMW R1200 GS Adventure 30 Year Anniversary Edition
What is it?
It's the latest incarnation (2011) of the well-known 1200 GS Adventure – with a few extras added to celebrate its 30th Anniversary in 2011. These extras are: white paintwork, a red-and-black seat, bigger hand guards, a bash plate and stickers. From 2012 onwards you can still order the bash plate and hand guards, but you miss out on the signature paint, stickers and seat colour.
Engine/Drivetrain
The basic engine design remains, but now features twin overhead cams as opposed to the single cam design and less power than its predecessor. A balancer shaft eliminates most vibration, although it has moments when it feels like a single cylinder. Gear shifts are deliciously smooth and accurate, and the shaft drive set-up means no chain and sprocket worries.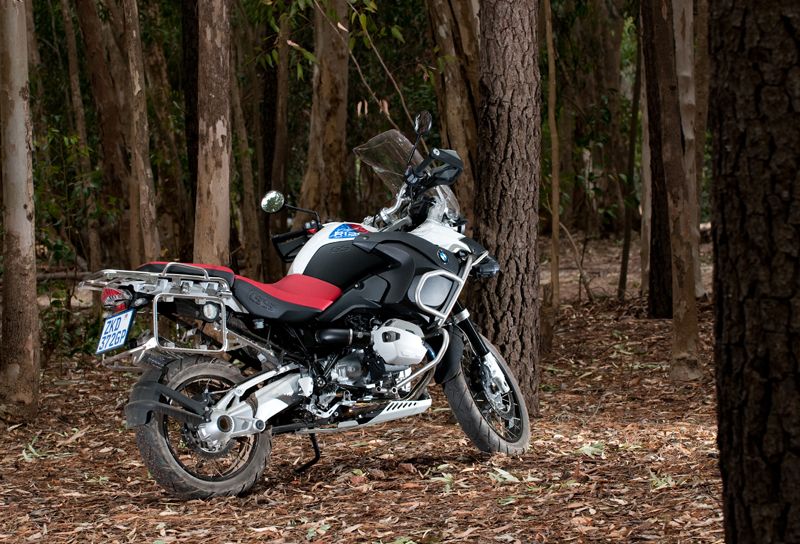 Style, instruments and equipment
When it comes to options and accessories, BMW riders are as enthusiastic as the Harley-Davidson crowd. You can order your 1200 GSA with ABS (can be turned off), Anti Skid Control (ASC), Dynamic Traction Control (DTC), Electronic Suspension Adjustment (ESA) and a tyre pressure monitor (TPC). After choosing that you'll probably want aluminium cases, crash bars and spotlights. The only limit is your budget and, perhaps, the total permitted weight of 475kg. Traditionalists will love the analogue rev counter and speedo. The switches are a joy to use.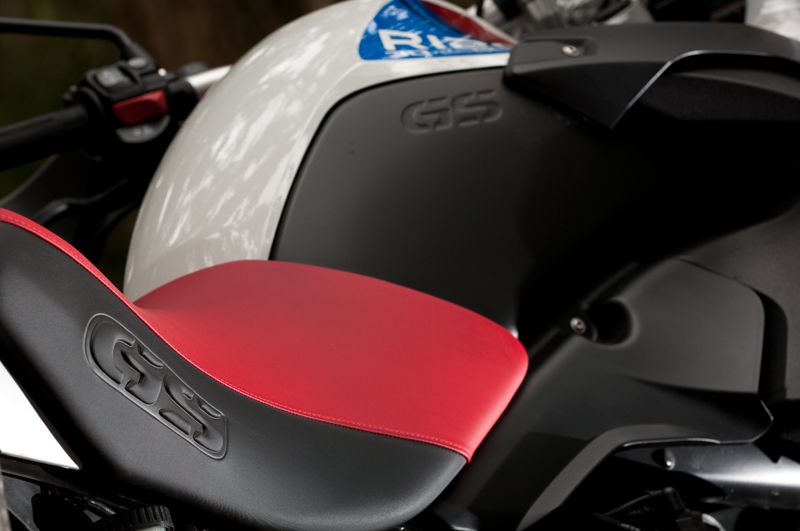 Performance
It will go well beyond 200km/h and cruise comfortably at 170km/h all day − and then destroy Porsches and Lambos at the robot grand prix.
Ride and Handling
The GSA's handling is simply amazing – experienced riders on these bikes often embarrass superbike riders who overestimate their abilities or the size of their (own) cojones, especially on passes where the road surfaces aren't billiard table smooth. Here the GS just soaks them up and remains composed.
Likes / Dislikes
Like: The supreme comfort.
Dislike: GS bikes are as common as (four-wheeled) 3-Series Beemers.
Verdict and rating
The GS has evolved into the ultimate grand tourer. Rating: 9
Also consider
Yamaha XT1200Z Super Ténéré, Triumph Tiger Explorer, KTM 990 Adventure R
Specifications – BMW R1200 GS
Engine  1170cc, four-stroke, air/oil-cooled, fuel-injected parallel-twin
Gearbox  6-speed, shaft drive
Power  82kW@7750r/min
Torque  120Nm@6000r/min
Weight  256kg (wet and fuelled)
Seat height & ground clearance  890 mm or 910 mm & 185 mm
Fuel capacity  32 litres
Fuel consumption (at 120 km/h)  6.1 litres/100 km. 540 km tank range
Warranty and servicing  Two years unlimited km; 3 year BMW On Call roadside assistance. Service annually / every 10 000 km
Price  This edition is no longer available, but the standard GSA retails for R172 670
Rode by Bikeroutes  March 2011
Review by  Justus Visagie