Pretoria, Loskop Dam, Dullstroom – day trip (adventure bike)
1. Total distance of route and date of ride?
570 km, 18 August 2012
2. How long did it take to complete?

It took us a full eight hours. The day started easy and relaxed but on the way back it got a bit more rushed.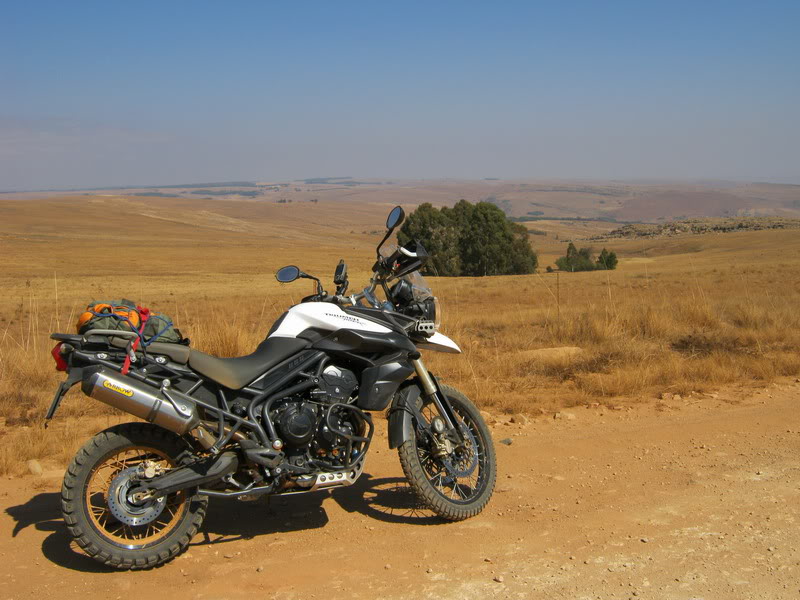 3. Why do you recommend this route?

It's a full day of riding with interesting dirt roads.
4. Please tell us how the route runs.
The route starts in Woodhill. Take the Groenkloof Road to Bronkhorstspruit. Pass Bronkhorstspruit on the R25 to Verena, where you turn off onto dirt. From there to Loskop Dam is all dirt till you get close to a tar road to Loskop dam. At Loskop you turn east and at the T-junction. The dirt start again all the way to the R33 to Belfast and then into the plantations to Dullstroom.
From Dullstroom head to Mashishing (Lydenburg) on the R540 but turn off on the dirt track on your right just a few km's out of town. This then takes you on a big loop around and back to Dullstroom. Then head south on the R540, towards Belfast. Just a few km's again you'll find a gravel road on your right. This takes you to the Tonteldoos Road, a nice gravel mountain pass to Stoffberg onto the R555. From here you go back to the Loskopdam intersection and from there basically the same way home. Refer to a map for detail, as many of the roads are less-travelled gravel roads!
5. What kind of motorcycle is the route suitable for.
Adventure bikes. And riders wit some off-road skills. There is one part that is very rocky and two sections with deep sand.
6. Please name significant points of interest along the way, e.g. eateries, supermarkets, accommodation. 
The clearest water in a dolomite dam you have ever seen, next to the road between the R555 and the R33. The Tondeldoos gravel road down the mountain is a good experience. Dullstroom is filled with little shops, cafes and restaurants. Have a look here at what to do and where to eat – Dullstroom
7. Are there petrol stations along the way?
There is petrol at Loskop Dam and Dullstroom.
8. Are there any dangers along the route? 
There's a rocky two-spoor road between the R555 and the R33 that can catch you out.
The sections in the plantations from the R33 to the R540 should also be ridden with care; it's quite sandy.
The dirt road loop from and back to Dullstroom is rather difficult, with rocks and thick sand all the way to the bottom of the valley. There is a very sharp hairpin turn with lots of sand.
9. What did the trip cost in fuel, meals and accommodation? 
Fuel was R450 and the breakfast was R50.
10. Did you use any special gear, e.g. fuel bags, that made your journey possible, easier or more enjoyable?
Always have our little med packs, water packs and tyre repair kits at hand.
11. Did anything funny happen that you'd like to share?
Yes. Our friend, still new to biking but an awesome person, worked night shift and felt hungry just before we left. He left work, bought some samoesas for later and chucked them into his top-box. At one of our stops he wanted to eat his snack, but all that was left was powder and mince!
12. Do you have any other comments or advice about the route?
Take pictures and have fun. It's a nice day run with everything to get you out of your comfort zone and start the adventure feeling.
13. Are there any doctors and/or hospitals in the area that you know of?
Lydenburg Medical Centre: 013 235 2205
Keep emergency numbers on your cell phone.
Ride report by Gideon Rossouw